Benny Benassi Suffers Serious Skiing Accident Injury
Benny Benassi's management took to the DJ/producer's social media channels to reveal that he has suffered a serious injury due to a skiing accident, and has had to cancel his upcoming shows. The 'Satisfaction' hitmaker had shows lined up in the US, as well as a headlining performance at Electric Festival in Finland in March, which for now stands cancelled.
More
Benny Benassi, EDM, Abel Sanchez,
---
Here Are The 10 Best Clubs That Closed This Year

While most of the end of year lists are probably to do with best songs of the year, artists to watch, albums of the year, and more, ElectronicBeats.net took the time to come up with a thoughtful list of clubs that had shut down this year. While readers might not be entirely familiar with each club, we respect the impact losing each one has on their respective communities. I can definitely relate coming from a city which lost one of the greatest clubs ever fairly recently -The Guvernment in Toronto.
Of course, this list doesn't cover every club that has closed this year. With the lockout laws in Australia, there have been more than a few establishments that have had to close their doors. There's likely more than one club or venue in the US that has also been lost.
More
Best Clubs, Night Clubs, EDM, Abel Sanchez,
---
YOUTUBE REWINDS THE YEAR'S BEST IN THE ULTIMATE 2016 CHALLENGE [VIDEO]
YouTubers far and wide have come together once again for another recap of the year's greatest trends and happenings, rolled together into one hilariously choice compilation.
10 most-watched videos of 2016 collectively share over 25 million hours worth of viewing, and their combined number of subscribers reaches well over 40 million. While Adele's Carpool Karaoke reigns as number one, Ultra-signee PIKO-TARO's "Pen-Pineapple-Apple-Pen" has officially numbed our minds as second biggest video of the year.
More
youtube, 2016, rewind, abel sanchez, edm,
---
Ultra Music Festival's Resistance Stage Lineup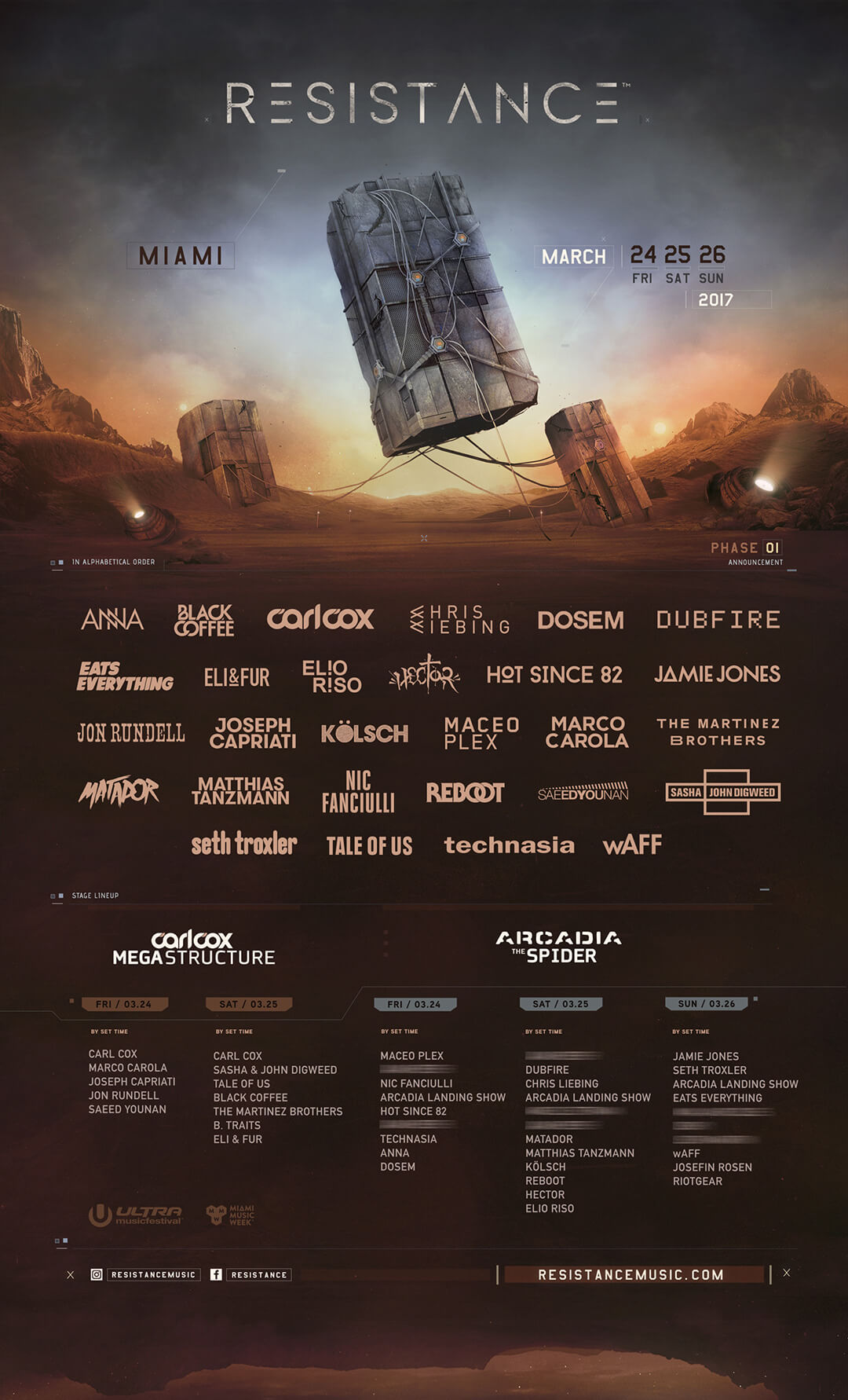 Ultra Music Festival Miami is just a few months away and more details are already starting to emerge.
More
Ultra Music Festival, EDM, Line Up, 2016, Abel Sanchez,
---
Beastie Boys Album Remixed Using Daft Punk Samples
Have you ever wondered what it would sound like to create an entire album of Beastie Boys remixes comprised entirely of Daft Punk samples? Probably not. But two years ago, one particularly creative Canadian producer by the name of Coins sat down in his studio to accomplish this very task.
More
beastie boys, daft punk, remix, edm, hip hop, abel sanchez,
---
Here Are Your Strawberry Fields Set Times For 2016
With the multi-day festival coming up in under two weeks time, Strawberry Fields have released their anticipated set times.
strawberry fields 2016, festivals, edm, abel sanchez,
---
The Chainsmokers' Epic Interview... 5 mins dedicated to flatulence.
As much as every radio/tv interviewer tries to "ask unique questions" truth is there's no question you can come up with that someone else hasn't already or will soon ask... well that is until this dude prep'd for his interview with the The Chainsmokers.
Whether or not Alex & Drew will remember any specific interview you may ask them about, is a toss up... Will they remember this interview in a few years? I'm pretty sure they absolutely will!
Because
it takes a certain amount of bravery to talk to The Chainsmokers for five minutes exclusively about
farts
.
More
the chainsmokers, abel sanchez, interview, edm,
---
Mark Ronson Fires Shots at The Chainsmokers on Twitter
Looks like The Chainsmokers just can't get away from the 'Joanne' drama, which stems from their Rolling Stone interview when group member Alex Pall expressed how Lady Gaga's single "Perfect Illusion" off her new album sucks. Gaga threw back her own shade on Twitter, but it looks like Mark Ronson, the producer of 'Joanne,' has gotten himself involved as well.
More
MARK RONSON, LADY GAGA, THE CHAINSMOKERS, ABEL SANCHEZ, JOANNE, EDM,
---
WATCH ONE OF THE CHAINSMOKERS' BIGGEST HITS PLAYED WITH GLASSES & POTS [VIDEO]
The Chainsmokers have undoubtedly witnessed the most prolific year in music out of anyone in EDM. With several massive hits propelling them into the upper echelons of mainstream and radio stardom, the amount of subsequent covers and remixes have been overwhelming, to say the least. One that was uploaded this week by Youtube user Dan Newbie, has effectively broken the mold of what it means to cover a popular track.
More
The Chainsmokers, EDM, Abel Sanchez,
---
EDC Orlando Daily Line-up
EDC, Orlando, Florida, EDM, Festival, Abel Sanchez,
---
Previous Entry
Next Entry