ULTRA 2017 STREAMING LIVE
Do you hate crowds but love dance music? Are you depressingly poor and can't afford the trip to Miami nor the ticket to Ultra Music Festival? Don't worry. UMF still wants you to have a good time. That's why they're streaming some of the most in-demand performances live, direct from sunny South Florida to your gleaming eyeballs.
ULTRA 2017 STREAMING, EDM, ABEL SANCHEZ,
---
Calvin Harris Tour Of His [VIDEO]
Before releasing his hit songs with Rihanna, Ellie Goulding and Dizzee Rascal, Calvin Harriswas quite the awkward looking fellow. Not only has fame brought him a new style, bigger collaborations and celebrity relationships, Calvin Harris has upgraded his hotel 'crib' to a $15 million Beverly Hills Mansion.
CALVIN HARRIS, EDM, ABEL SANCHEZ, CRIBS, MTV
---
CALVIN HARRIS HAS A TON OF UNRELEASED MUSIC UNDER HIS NAME ON ASCAP
There has been rumors of a potential Calvin Harris and Beyoncé collaboration that first surfaced on Breathe Heavy. Thankfully for EDM fans everywhere, EDMSauce went the extra mile on their end and graciously dug through the ASCAP database to find some details.
ASCAP, or the American Society of Composers, Authors and Publishers, is one of the three main American PROs (performing rights organizations) where producers, songwriters, musicians and more can register their works to ensure proper royalty payouts for public use of copyrighted material.
More
CALVIN HARRIS, BEYONCE, COLLABORATION, NEW MUSIC, EDM, ABEL SANCHEZ,
---
FEED ME ACCIDENTALLY SHARES PICTURE OF MARSHMELLO WITH HIS HELMET OFF
Well, that'll do it folks. Feed Me's Instagram last night has irrefutably revealed who is the man behind the Marshmello.
We've already shared evidence that we know who Marshmello is, but now we finally have a legitimate picture of the man behind the mask in full Marshmello garb with nothing to hide his face. Caught in the reflection of a mirror in what's probably an artist's green room, Marshmello can be seen taking video on his phone while someone else has the mask donned in his stead.
More
MARSHMELLO, DOTCOM, EDM, ABEL SANCHEZ,
---
The Chainsmokers & Coldplay's New Song Accidentally Gets Revealed!
The highly awaited collaboration between The Chainsmokers and Coldplay might be dropping sooner than you and me would have thought! Reportedly titled "Something Just Like This", the unreleased tune is poised to be one of the biggest crossover collaborations of 2017.
The Chainsmokers, Abel Sanchez, EDM, Chris Martin, ColdPlay, Something Just Like This,
---
New Calvin Harris Drops This Week... [Listen]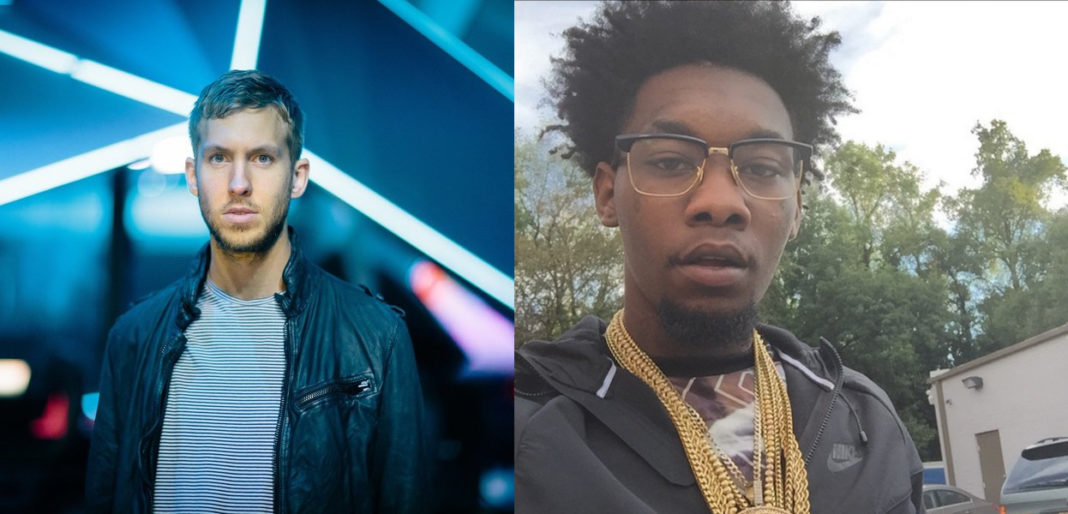 A few weeks ago we noted that
Calvin Harris
was previewing new music on his Snapchat as he drove around the sunny roads of Los Angeles. Mainly the focus of the videos were the fact that Frank Ocean was featured on the unreleased music. Now
Complex found another surfaced Snapchat
from that day with Offest of Migos on a track. It seems to be the same song that Ocean was featured on. Clearly Calvin is a fan of Migos already…
More
CALVIN HARRIS, MIGOS, FRANK OCEAN, EDM, ABEL SANCHEZ,
---
FULL LIST OF GRAMMY 2017 WINNERS
GRAMMYS, 2017, EDM, WINNERS, ABEL SANCHEZ,
---
CHAINSMOKERS FIRE BACK AT ESQUIRE MAGAZINE
The men's fashion magazine Esquire posted an article yesterday that is stirring some heavy debate. The article titled 'The Chainsmokers Are The Nickelback of EDM' has been shared more than 33,000 times and is being discussed widely on social media.
More
ESQUIRE, THE CHAINSMOKERS, EDM, ABEL SANCHEZ,
---
Benny Benassi Suffers Serious Skiing Accident Injury
Benny Benassi's management took to the DJ/producer's social media channels to reveal that he has suffered a serious injury due to a skiing accident, and has had to cancel his upcoming shows. The 'Satisfaction' hitmaker had shows lined up in the US, as well as a headlining performance at Electric Festival in Finland in March, which for now stands cancelled.
More
Benny Benassi, EDM, Abel Sanchez,
---
Here Are The 10 Best Clubs That Closed This Year

While most of the end of year lists are probably to do with best songs of the year, artists to watch, albums of the year, and more, ElectronicBeats.net took the time to come up with a thoughtful list of clubs that had shut down this year. While readers might not be entirely familiar with each club, we respect the impact losing each one has on their respective communities. I can definitely relate coming from a city which lost one of the greatest clubs ever fairly recently -The Guvernment in Toronto.
Of course, this list doesn't cover every club that has closed this year. With the lockout laws in Australia, there have been more than a few establishments that have had to close their doors. There's likely more than one club or venue in the US that has also been lost.
More
Best Clubs, Night Clubs, EDM, Abel Sanchez,
---
Next Entry